Broadmoor World Arena Seating Chart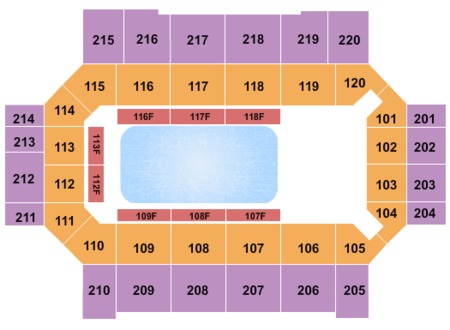 The Broadmoor World Arena can hold up to an amazing 8,099 guests in total, giving a stadium feel to it's performances and to the crowd.
With such an impressive amount of space and wide range of options, you will be spoilt for choice when selecting your seats for your event booking.
The venue layout is split into three main areas and divided up by the floor levels. The first level is floor seating and then goes on to provide tiered seating of level 1 and and level 2. As all of the seating is located around the stage, every position in the crowd will no doubt give spectacular views and surround sound from the live concert, match or performance.
As one of the biggest indoor arenas in Colorado, the Broadmoor World Arena attracts so many world-class acts throughout the year as it gives the high class musicians, sports teams and theatre casts to play to as many people as possible.
Accessible Seating
At the Broadmoor World Arena, wheelchair and companion seating is available throughout the venue. You can find more information on where the seating is located when purchasing your event tickets or by visiting the Box Office for more help and assistance.
The Broadmoor World Arena venue and it's performers encourage the mission of bringing more people together and create a memorable experience for all.
Being in the heart of a crowd, catching your all time favorite band or solo artist, sports team or other event right before your eyes, whilst being surrounded by fellow fans is a one of a kind feeling that cannot really be put into words and can only be experienced.
NOTE: Different events may require different seating arrangements. When selecting your tickets double check the seating chart for the specific event layout.
You can reserve your ticket today and secure the best seats. Check out the Broadmoor World Arena schedule to see all upcoming events.
For all ticket policies and authenticity guarantees see the ticket information page.